We have received a number of messages asking which dog toys are quality products. Here is what we found. Many products are made by Kong. Kong products had some of the highest ratings and have a reputation for lasting. In the article, we tell you the good and the bad of each toy. Hopefully, this will help you find the best toy for you and your pal.
A durable toy that can hold a treat inside (peanut butter?) and is made in the USA.
Some people who reviewed the product said that the toy had an oily smell. This might be the distributor and the seller you buy it from.
Why it's great: A simple toy that can keep your dog busy.
Over 4,000 reviews with an average review of 4.5 stars out of 5.
Get the medium version with shipping for less than $12.
We considered including a similar product in previous lists, however, it seemed to cause problems with smaller dogs. For smaller dogs, their teeth or mouth would get stuck in the opening. For this model, they seem to have fixed that. The one-star reviews for this product now seem to be around larger dogs breaking it. To fix this problem watch your dog play with it for the first week. If the dog doesn't understand what to do they will get creative and crew it or step on it. Dogs just have to get the hang of it.
Why it's great: It can hold dogs attention for awhile. Some 5-star reviews had their dog playing with the toy for 1.5 hours.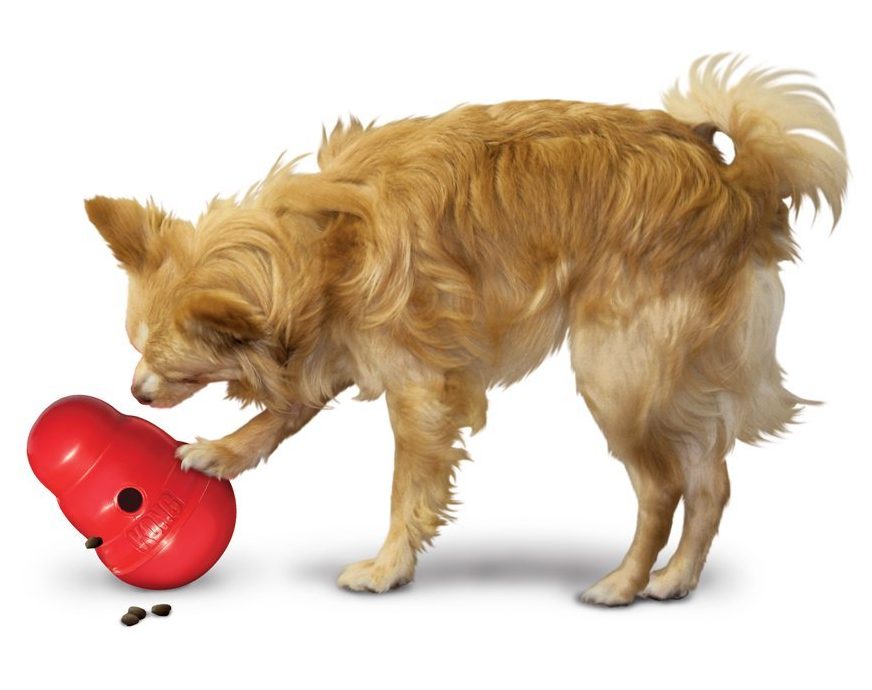 Comes in two sizes: Small and Large. It has over 2,500 reviews with average review 4.3 stars.
The one-star reviews for this item center around the rivers dogs chewing it and breaking it. Again this is a product you should teach your dog how to play with and watch them for the first week to make sure they aren't chewing it. If you spend 15 minutes teaching your dog how to play then this can easily become their favorite toy.
Get the large Treat Wobbler with shipping for less than $15
Made in the USA with Natural Rubber.
The one-star reviewers experience a toy that breaks within the first hour. About 80% of the reviews are 4 and 5 stars. The 5-star reviews talk about a product that is durable and last a long time. We're unsure why this is. It might be the quality control at Kong's end. If you are willing to take a chance you may be surprised with how durable and long lasting this toy is.
Get the medium version for less than $10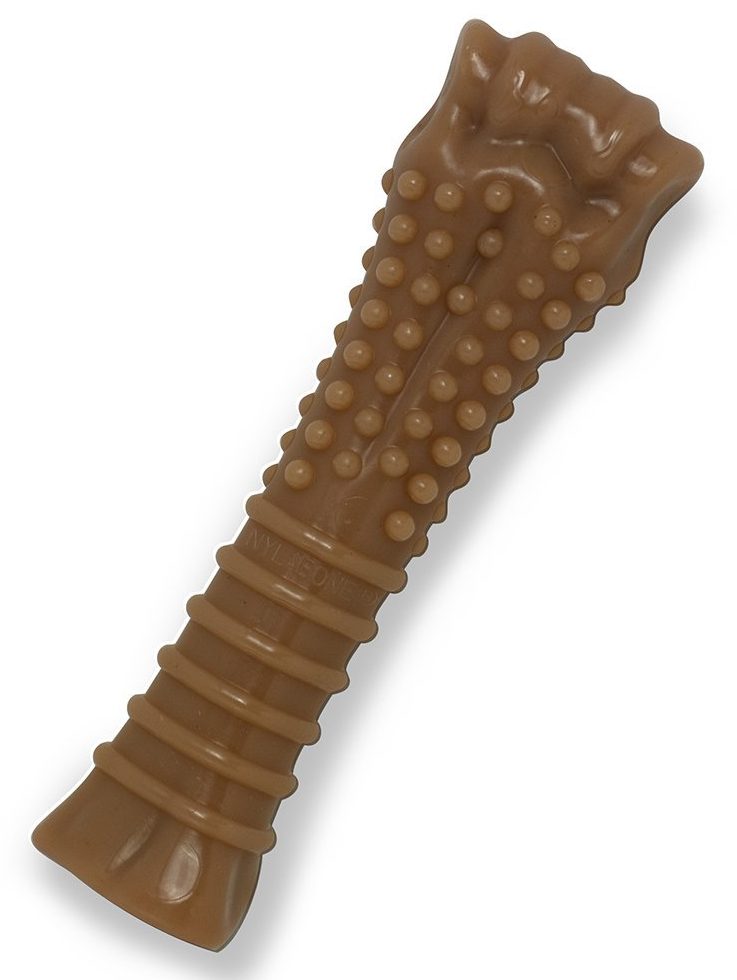 For dogs that are chewers. The one-star reviews are not about this toy breaking, but instead about dogs not being interested. For dogs who are chewers, they seemed to be very interested and this toy lasts.
Why it's great: It's durable and seems indestructible.
Get it and shipped to you for less than $10
Wolves, wolfdogs, and wild dogs have a high amount of bone in their diet. They need the minerals and nutrients found in bones such as calcium, which can strengthen their teeth. Dogs also need bone in their diet and what better way than to give them a bone to play with, in this case, a deer shank bone. What makes this product cool is that the bone is from free-range, grass-fed deer on traceable, approved New Zealand farms. You can feel good about this product making your dog healthier and being good for the world.
Get this bone with shipping for less than $10
Disclaimer:
Some links in this post are affiliate links. We receive a small portion of sales made at no extra cost to the person making purchases. We do this to keep the content free and continue to produce valuable content.