Sometimes little things can go a long way. Here are some things for dog parents to make your life easier while living with your furry best friend that won't break the bank.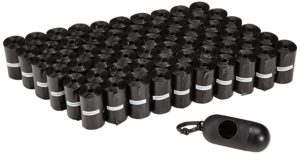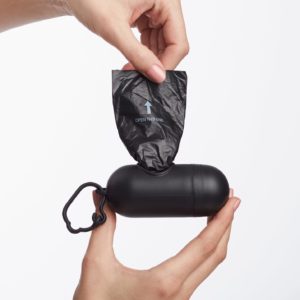 This is an Amazing Deal! It comes with 900 black dog waste bags. As a bonus, you get a dispenser that can be attached to your leash. This product has almost 5,000 reviews average 4.5 stars. I can think of very few things were 5,000 people agree on something. Here is what Summer Ceranicon said:
These bags are stiff and a little thick, but they are awesome! The smell doesn't come through at all! These are by far my favorite bag now.
The bag size is 12.5″ x 8.5″. Something you need anyway why not save some money? Buy it for less than $13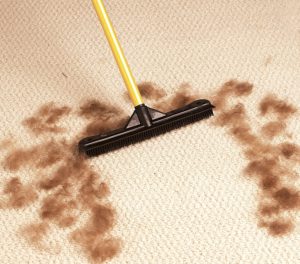 A broom that can remove dog hair. The brush is 12 inches long. It also has a squeegee for windows and flat surfaces. This would be awesome for cleaning a car. Inside the home, it can be used for clothing, upholstery, carpet, and hardwood floors. To get the high to reach places it extends from 3 feet to 6 feet.
Over 2,500 reviews with the average review 4.o stars. Many of the people who left reviews said that it worked wonders and the brush was amazing, however, some people had problems with the handle. For some, the handle broke. On the off chance, your handle breaks a quick fix is replacing it with another broom handle. Buy it for less than $20.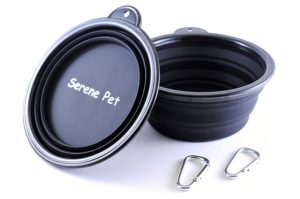 Have you ever been on a walk and have a thirsty dog? This is one of the best solutions a reusable collapsible travel dog bowl. A dog bowl, but really you could use this for humans as well. It is made from FDA approved 100% BPA-free premium food grade silicone. I would drink out of it. It folds completely flat easy to put on a leash or attach to your pants. Over 100 reviews with the average review being 4.6. That's a lot of 5-star reviews, over 80%. You can buy 2 of them for less than $11.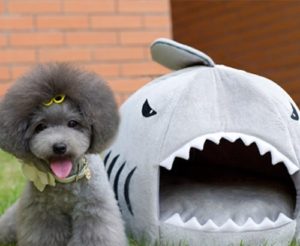 This one is for smaller dogs. A dog bed that looks like a shark. This bed has a removable cushion and waterproof bottom in case of accidents. It comes in two sizes starting at less than $11.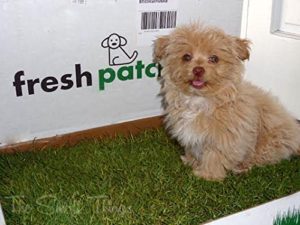 This product was on the T.V show Shark Tank! It has an average review of 3.7 For the people who use it as a temporary solution such as travel people tend to give 5 stars. The other good use case is for small dogs who might tinkle on the carpet. The patch saves your carpet. Its not a replacement for walking your dog or the outdoors, but is what it says a Patch. If you have a small dog and want to save your carpet or are planning a trip with your best friend this is for you. Buy if for less than $20.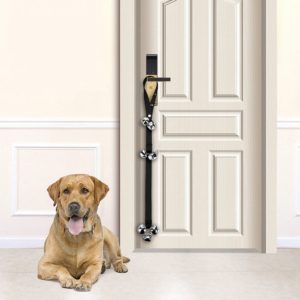 What about for larger dogs? What is the bathroom solution for them? Door Bells. You can train your dog to let you know when they need to be let outside. Does it work? Here is what Cathi S. thinks of it after making the purchase:
My dog learned to use this within a week, and has been using the bell successfully for three months. Held up well, dog can reach it easily and it is loud enough to hear throughout the house.
What is a better reminder to walk your dog than your dog telling you?
You can buy it for less than $21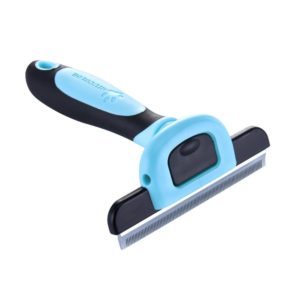 This has been called a stress reducer. The brush comes in two sizes either 4 Inches or 5 Inches. The comb teeth are made out of stainless steel. Designed to dramatically reduce shedding. Here is what zaniahon said:
Wow this brush is a miracle worker deff worth the price is caught all the hair off of my fluffy friend
The product has almost 3,000 reviews and 89% of them are 5 stars. You can get it for less than $22.
How much hair is in your back seat? Here is one solution. A hammock for your dog. This is perfect for taking your dog to the dog park or on a short road trip. It is made out of polyester and is 55 by 59 inches. The two pockets on it are great to store a leash or your favorite grooming brush. Some people noticed a problem with it breaking when their dog climbs into the front seat. If this happens a lot in your car then look at the next item bellow.
Here is what Colin Schroederon said after buying it:
This product may be in my top five favorite purchases on Amazon. First, you can't beat the price of this cover. Second, the quality is phenomenal and its very durable. Last, it's so easy to take in and out of the car and fits my 2015 Fors Fusion like a glove! The zipper in the middle works perfectly too. I usually keep the zipper down so the back vents blow air to my dog but if she is too rambunctious I can zip it up and she is confined to the back seat!
You can buy this dog hammock for $20 or less.
If you had concerns about your dog climbing into the front seat and stretching the hammock then this is the seat cover for you. It is waterproof and completely covers the seat. The size of the cover is 56 by 47 inches. You can buy if for less than $19.
That is your list of fun and useful items to help you live a happy less stressful life with your best friend. Did you find this article useful? Share it with another dog parent to help them or check out our other article for dog parents about dog toys.
Disclaimer:
Some links in this post are affiliate links. We receive a small portion of sales made at no extra cost to the person making purchases. We do this to keep the content free and provide pro bono professional services.